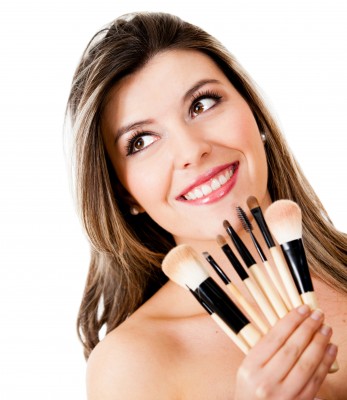 Have you ever wondered what all the different makeup brushes are used for? It doesn't  have to be complicated to understand the different types of makeup brushes and their various uses. Today we will  take a closer look at some of the common brushes that you may find in your local beauty store.
Blush Brush
Has large, fluffy and usually very soft  bristles used for applying blush to the apples of your cheeks to give you a healthy, radiant glow.
Eyeliner Brush
Has small angled bristles, used for apply eyeliner, such as gel eyeliner to places such as your waterline, or to you upper lash line. Sometimes with an eyeliner brush you can use it to apply a bit of eyeshadow to the same way you would apply eyeliner.
Eye Shadow Brush
Has short and rounded bristles. This type of brush is used for applying eyeshadow to your eyelids. Because you may want to use more than one color when applying your eyeshadow, it can be very handy to have more than one eyeshadow brush, unless you want to have wash the brush in between applying different shadow colors.
Concealer Brush
Looks very similar to the eyeshadow brush. The one key difference is that the eyeshadow brush has a slightly wider and more blunt shape. One other difference, is that the concealer brush has a slightly tapered end, while the eyeshadow brush has a more flat tip. In addition, the concealer brush has little bit more dense and stiff of bristles. The concealer brush is used for applying concealer to imperfections, such as blemishes, or under eyes circles.
Lip Brush
Has short bristles and a tapered end, used for precisely applying lip color such as lipstick or lip gloss directly to the lips.
Contour Brush
Can lot a bit like a blush brush, only this type of brush is has angled bristles that are used for contouring, places such as your cheekbones.
Lash and Brow Grooming Brush
This sometimes double-ended brush has two sides each with a very different use. One side  has long, stiff bristles, used for grooming your eyebrows. The other end is used on you lashes, it is shaped  like a mini comb. It can be used to separate your lashes after you apply your mascara. Also it can be good for gently removing the clumps from your mascara wand, making you mascara application much neater.  
Tweet