Eyeliner is a makeup staple for most of us. The problem with eyeliner, however, is getting it to last throughout the day without smudging, running, or vanishing completely. If you've had trouble finding the best method for a long-lasting look, following at least one of these tips will solve your eyeliner problems.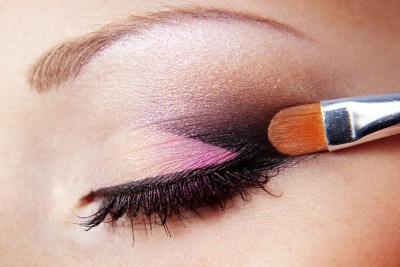 Use Liquid Eyeliner
If you've had bad luck with crayon and pencil liners smudging easily, you'll be able to avoid that problem completely with liquid eyeliner. It comes in tubes that usually offer a fine-tipped paintbrush applicator, and the substance itself is very similar to paint. It glides on thickly and easily, then dries quickly to form a bold, dark line. Liquid eyeliner works very well for evening wear, but you can still manage a toned-down look for your everyday activities.
Keep Makeup Light
Some women enjoy a thicker and bolder look on occasion, but this usually results in a shorter lifespan for your eyeliner. The more layers of eyeliner you apply, the less able that makeup is to cling onto your skin. With several layers, eventually, it will smear everywhere and give you a raccoon effect under your eyes. Try to keep your application honed to one or two strokes along your lid; if you mess up, remove the makeup and try again.
Apply Shadow Over Line
One of the main causes for smudging and short-lived eyeliner is the excess oil that forms and sits on eyelids. A great way to combat this is to apply a matching eyeshadow over your eyeliner, tapping it on and pressing it into the lid. This will absorb any excess oil and give your makeup a firmer and longer hold on your skin. You can also use translucent powder if you'd rather not use a dark shadow.
Dab Concealer Under Lashes
If you've used a pencil liner on your lower lids and are worried about it smudging down, this is a great tip to last you most of the day. Use a small brush and dab concealer in a line below your eyes. Blend it carefully up to reach just below your eyeliner. This will create a more textured surface so that your eyeliner will have trouble blurring lines. If you tend to sweat (or are outside in the hot sun all day), be prepared to reapply your concealer a few times.
Permanent Eyeliner
If all else fails and you just can't get your eyeliner to cooperate, permanent eyeliner is always an option. It's literally a tattooed line along your lashes in the color of your choosing. You'll never have to worry about reapplying your liner again. It's an affordable option these days and many choose to go through permanent makeup school to learn more about the options and techniques. While many women feel the need to go back and touch up their permanent eyeliner every few years, some women are satisfied with their everlasting eyeliner for the rest of their days.
No matter what skin type, eye shape, style of makeup, or form of eyeliner you are working with, there is a way to make it work for you. It may take some patience and experimentation, but with these tips, you can start to find the most effective makeup routine for a beautiful and flawless look all day!