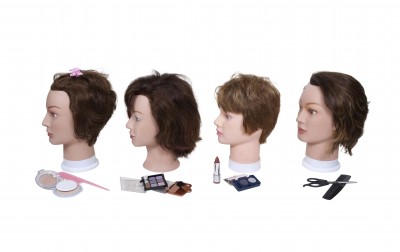 What is Cosmetology?
Cosmetology, as commonly defined, is the study and application of beauty treatment. There are a few specialties that are nested under the larger category of cosmetology. Most cosmetology schools offer instruction in these areas: cosmetics, hair styling, skin care, manicures/pedicures, and electrology. Most schools teach primarily hairstyling, but cover additional areas. Some schools are specific to certain tiers of cosmetology, such as barber academies or programs for estheticians. Here is a breakdown of some of the specific specializations in cosmetology schools.
Hair Stylists
This job is pretty self-explanatory. A person who cuts, styles, colors, and does extensions and straightenings is considered a hair stylist. This job requires precise training, a good eye, and strong sense of style. Being able to gauge what hairstyle would look best on a particular client and making good style decisions on often limited information are all important qualities for hair stylists to develop. Hair stylists must hold licenses in cosmetology to work on the public and the educational coursework generally varies by the school.
Estheticians
Estheticians are licensed experts in skin care. When referring to skin care, it is important to qualify that estheticians work with the outermost layer of skin, the epidermis. Estheticians specialize in skin treatments like hair removal, body treatments, skin care consultations, exfoliations, aromatherapy, and make up. Estheticians ordinarily work in day spas, med spas, and salons, but many work in private practice or in clinics. Some additional specializations of estheticians include microdermabrasion and laser hair removal.
Like hair stylists, estheticians are required to be licensed by the state where they work, but the license is not a standard cosmetologist license. Within esthetics, there is also a specialization in medical esthetics that requires additional post-graduate training. These estheticians work under dermatologists to help treat skin problems that are cosmetic in nature.
Nail Technicians
Nail technicians specialize in the care of nails and generally perform manicures, pedicures, nail treatments, and even hand and foot massages. Nail technicians are also regulated by the state cosmetology board and are trained in various cosmetic procedures related to the treatment of the hands and feet. Programs for nail technicians are typically shorter than other cosmetology courses. Many cosmetology schools, however, teach some nail care within the general cosmetology sequence.
Makeup Artists
Makeup artists apply cosmetics to the face and work in a diverse range of capacities. From a salon or spa to theatre, photography studios and film, a good makeup artist has a lot of versatility in where and how they work. Holding a cosmetology license or esthetics license is necessary to practice as a makeup artist. Training can vary, especially in the television and film industries, which require extensive training and experience.
Becoming a Cosmetologist
Becoming a certified cosmetologist involves receiving training in a state licensed beauty academy. These programs typically emphasize hair styling and general cosmetology practices and last about a year. Special programs like nail technology, makeup art, and esthetics can be shorter, but duration and intensity of the courses depends upon the school. There are a number of private cosmetology schools and vocational programs that offer cosmetology courses.
Everyone working in the personal appearance industry must be licensed by the state in which they work. The easiest way to go about this is to graduate from a state-licensed cosmetology school. State cosmetology practices vary from state to state but the practices and sanitational oversight is administered by the health department and Board of Cosmetology.