It is Saint Patrick's Day. The Irish holiday when you often celebrate by wearing the color green. If you bored of wearing green teashirts on Saint Patrick's Day perhaps you want to wear a green manicure, or  try out some emerald green accessories, like shoes or a handbag. If you are really feeling bold and really want to enhance your eyes this year try an emeral green eyeshadow. What better month than the lush, green month of March to wear such a bold shade of eyeshadow.  Say goodbye to your regular neutral shades of eyeshadow, this March here is a quick six-step tutorial for how to create a stunning bold, emerald green eyeshadow look.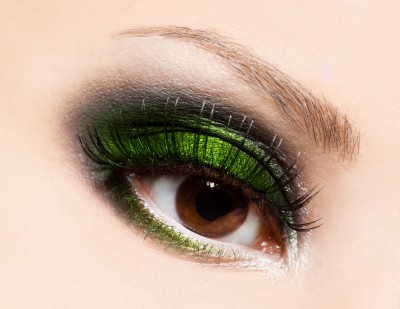 To do an emerald  green eye:
Step One: Prime your eyelid so the shadow has something to adhere to, and to help the color last and look fresh throughout the day.
Step Two: Apply a dark green shadow on your entire eye lid, and work the color into your crease. For more intensity you can apply a second layer of this color onto your eyelids. You can also use this color to line your bottom top and bottom lash lines.
Step Three: Apply a smokey dark gray shadow over the top of the green shadow. Blend this smokey gray shadow into your creases.
Step Four: Take a white shadow color and use it to highlight the brown bone.
Step Five: Work the same bright white shadow and apply this to the area around  your tear duck
Step Six: When you are done creating the look, make sure you blend well.
If you want you want to do a softer and more subtle emerald eye look, you can instead apply a light green shadow to your eyelids and a darker emerald green shadow into your crease. For some extra sparkle you can use a glittery liquid eyeliner. Try applying a sparkly, gold glitter liner over the top of some green  liner, so to really make your eyes pop. If you really want to be creative with the emerald eye trend you can try taking some emerald, green mascara and apply it to your lashes, to really enhance your eyes.