We all may want gorgeous long, healthy hair, but it can be difficult to achieve when your hair is brittle, dry and damaged. Although you can't completely reverse the damage once it's done, there are few tips that you can use to can use to make your hair appear healthier, and protect any new hair growth from future damage.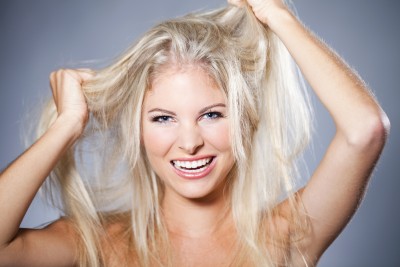 Caution When Wet
Your hair can be very fragile and weak when it's wet, so wait for it dry before combing or brushing your hair. If you want to comb you hair, try using a wide tooth comb. This will be gentle on your hair. Wide tooth combs can be good for when you applying condition and want to make sure that the conditioner is evenly distributed through out your hair. A great way to comb or brush you hair is to section hair into small manageable sections  you can use clip to keep the sections separated) start at the ends and work the knots out, the work you way up till you get to the root. Then I personally like to give the section one last comb through all the way from root to tip, to ensure that I have gotten all of the knots out my hair. Then repeat this process on all the sections of hair. May not be the fastest process, but I think it will be well worth you time in the long run.
Handle With Care and Use a Detangler
Your hair can get very tangled and knotted, but be very gentle with your hair when you detangle it. Don't yank or drag your brush through your hair, be gentle, you hair can be very fragile. It can be better to take a little more time to slowly detangle your hair than to have to deal with the damage that can be caused by rushing for months to come.
Cool It With The Hot Styling Tools!
Flat irons, curling irons, blow dryer all can be very damaging to hair.  Excessive use can make your hair very dry, damaged and frazzled. Try doing hair styles are gentle with your hair and don't require using hot styling tools. If you really feel that you can't live without your hot styling tools, at least use a heat protection cream or spray. Like
for example,  Paul Mitchell Heat Seal Thermal Protection and Style .  A heat protectant is great for preventing damage,  since it helps to create a barrier to protect your hair from the damaging scorching hot temperatures of your styling tools.
Apply Deep Conditioner
Deep conditioner can make you hair really soft. Although you can't entirely repair all of damage that your hair has endured, a deep conditioner you can help to make your hair appear healthier, and make your hair a lot softer and more manageable.
Get a Trim
Lastly going to your stylist and getting regular trims will help remove split ends, and make hair nice and smooth. A nice trim can also make you hair look more polished and well-kept, and also make you hair appear healthier.